Alameda Social Club in the News!
Bridging The Gap
Alameda Social Club to the Rescue
"Founded by a group of four friends — Rusti Porter, her husband, Martin Geraghty, Sanford Marshall and his wife, Megan Marshall — the Alameda Social Club was born on Christmas 2009 from the idea of bringing together people with similar interests while supporting local businesses and helping the community."
MORE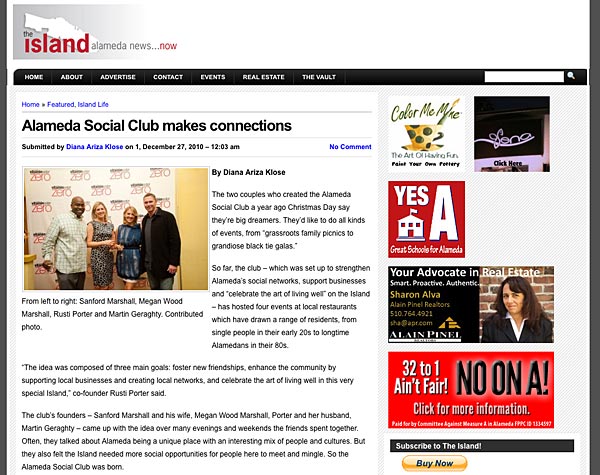 Alameda Social Club makes connections.
... So far, the club – which was set up to strengthen Alameda's social networks, support businesses and "celebrate the art of living well" on the Island – has hosted four events at local restaurants which have drawn a range of residents, from single people in their early 20s to longtime Alamedans in their 80s. (READ MORE)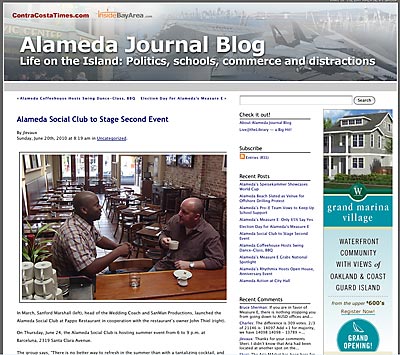 The Alameda Journal Blogs about The Alameda Social Club
The group says, "There is no better way to refresh in the summer than with a tantalizing cocktail, and Barceluna serves them up as fresh as they come … Come mingle with fellow Islanders, enjoy a sampling of nibbles, groove to beats by DJ Dro, and cozy up to the custom built bar for a refreshing libation."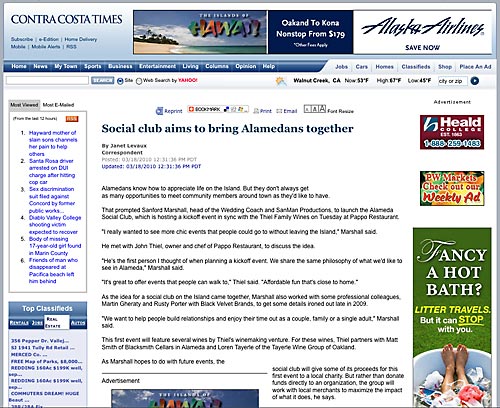 Social club aims to bring Alamedans together
Contra Costa Times
By Janet Levaux
Correspondent
Alamedans know how to appreciate life on the Island. But they don't always get as many opportunities to meet community members around town as they'd like to have.
SanMan Productions | email us | Office: 510-522-9333 | Cell: 415-310-0033